Image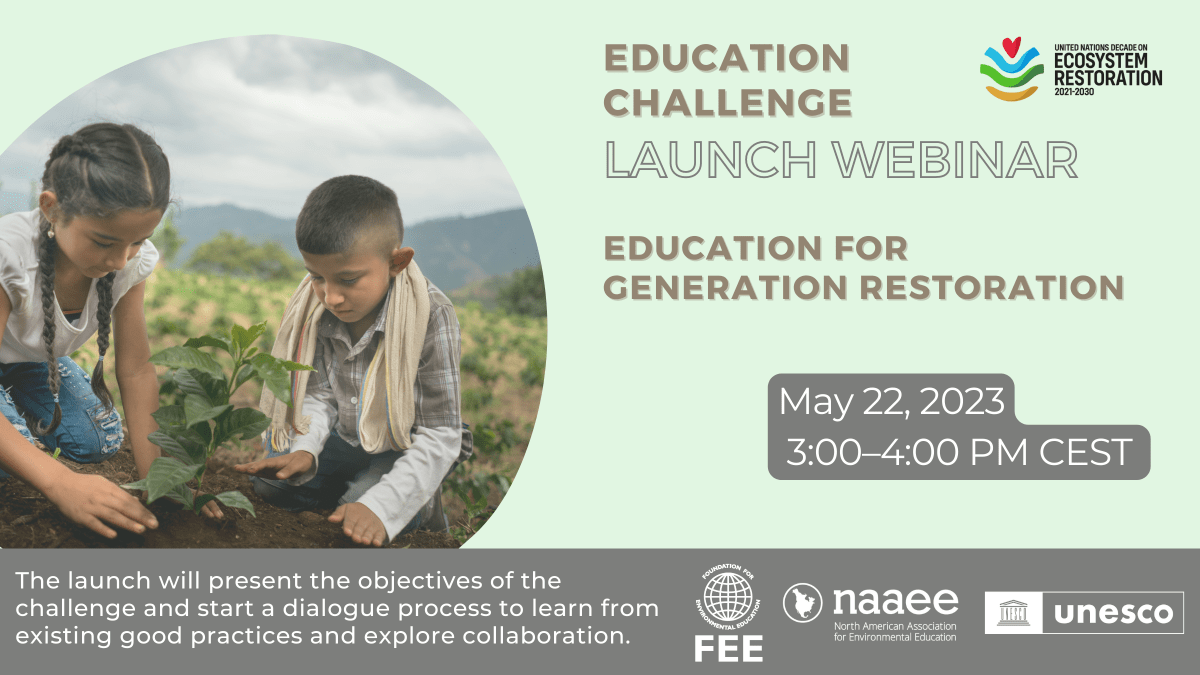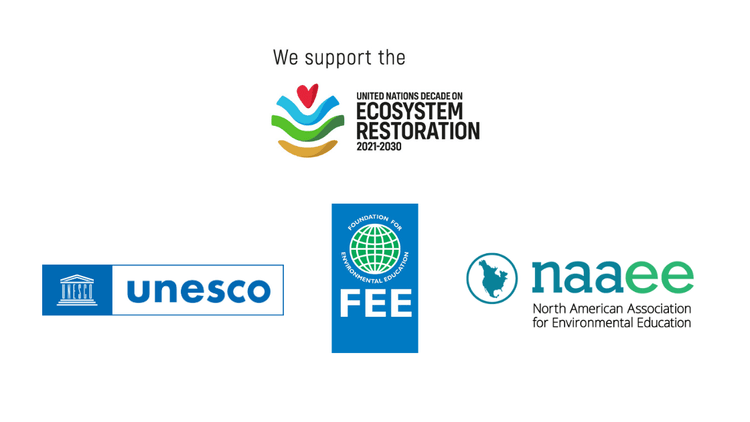 Global Collaboration for Ecosystem Restoration: Education Challenge Aims to Embed Ecosystem Restoration into Educational Systems Worldwide
As humanity faces a multitude of challenges, from climate change to social inequality, education must play a critical role in equipping the next generation with the knowledge, skills, and values to overcome these complex issues and create a better future. One of the key challenges we face is ecosystem degradation. The UN Decade on Ecosystem Restoration calls for the protection and revival of ecosystems worldwide, to halt degradation and restore them to achieve global goals. This decade runs from 2021 to 2030, which is also the timeline scientists have identified as the last chance to prevent catastrophic climate change.
"We need everyone to be involved in order to meet restoration targets and commitments—which are critical for fighting climate change, halting biodiversity loss, and ensuring food security. Education is essential in this regard to provide a clear and well-grounded vision for the action and build capacities for #GenerationRestoration which leads the Decade."
—Natalia Alekseeva, global coordinator, UN Decade on Ecosystem Restoration, with the UN Environment Programme (UNEP)
To work towards the goals and vision of the UN Decade on Ecosystem Restoration, the UN Decade Strategy Group has approved the UN Decade Action Plan, setting out the next steps for collective action. The Action Plan identifies 12 priority areas for partners to mobilize and proposes 30 Restoration Challenges to achieve the UN Decade's goals. Acknowledging that education is essential in ensuring that future generations understand the value of nature and appreciate its importance, the Education Challenge 6.1 aims to embed ecosystem restoration education (ERE) into formal and non-formal education systems worldwide by 2030 as a critical element of Education for Sustainable Development (ESD). The aim is to develop a framework aimed at broad actions to map existing initiatives, build a common agreement on quality lifelong learning outcomes for #GenerationRestoration, and work towards embedding Ecosystem Restoration into formal and non-formal educational settings synergistically with the UN-led Greening Education Partnership.
"For more than 75 years, UNESCO has shown the way and continues to work towards changing mindsets to make progress in sustainability. Increasing knowledge on the threats facing ecosystems is the first step to solving the issue itself but, together, there is a need to move from knowledge to action. Uniquely placed at the crossroads between knowledge, research, and action, UNESCO will leverage its ESD for 2030 framework, and its networks of Associated Schools (ASPnet), and UNESCO Chairs and designated sites (World Heritage, Biosphere Reserves and Global Geoparks), to facilitate the inclusion of restoration into all levels and settings of lifelong education and training. UNESCO's contribution to the UN Decade is embedded in safeguarding biological diversity and a diversity of communities' worldviews, social practices, cultural expressions, languages, and knowledge systems respectful of the living."
—Bernard Combes, programme specialist for ESD at UNESCO
Coordinated by a consortium of the Foundation for Environmental Education (FEE), the North American Association for Environmental Education (NAAEE), and the United Nations Educational, Scientific and Cultural Organization (UNESCO), the challenge requires the collective effort of governments, educators, students, and communities worldwide to embed ecosystem restoration into our education systems. By doing so, we can create a future where every individual has the knowledge and skills to protect and restore our planet's ecosystems, ensuring a healthy and sustainable future for generations to come.
"When FEE launched its strategy for the decade, called GAIA 20:30, it was in recognition of the crucial role education can and must play in tackling the most critical issues facing our planet and its people, climate change, biodiversity loss, and pollution. FEE's priorities align perfectly with the UN Decade on Ecosystem Restoration, and we are very excited to be playing a key role in supporting the delivery of the UN Decade Action Plan. FEE believes that together with its partners and network of members across the world, it is possible to help people to understand the importance of nature for our future and crucially, to learn how to take action to protect and restore our natural environment."
—Lesley Jones, president of FEE
The partners are aware that many relevant resources and initiatives on ERE already exist but often are not structured coherently, and might be labeled as nature, environmental, biodiversity, or climate education. A dynamic framework will be created, allowing for the evolution and adoption of good practices through collaborations at various levels. The activities include situational analysis and high-level mapping; establishing synergies between existing efforts at multiple levels and regions; collecting and sharing existing best practices; co-developing, with key stakeholders, a framework adaptable in multiple contexts; demonstrating ways to embed ecosystem restoration in diverse lifelong educational contexts.
''NAAEE is excited to partner with the Challenge to use the power of education for achieving a sustainable and prosperous future for all. For more than five decades, NAAEE has worked to advance environmental education and civic engagement to create a more just and sustainable future. As a partner of the Decade, NAAEE will highlight important education efforts already taking place, support education in communities most vulnerable to the impacts of biodiversity loss and climate change and promote opportunities for everyone to engage in this global effort to protect and restore ecosystems for the benefit of people and nature.''
—Judy Braus, executive director of NAAEE
The education challenge is being launched on May 22, 2023, the International Day for Biological Diversity. This online event will present the Education Challenge objectives with an opportunity to start a dialogue process to learn from existing good practices and explore collaboration opportunities for the Challenge to be effective. For details click here.
About Foundation for Environmental Education (FEE)
Established in 1981, the Foundation for Environmental Education (FEE) is one of the world's largest environmental education organisations, with over 100 member organisations in 82 countries. With 40 years of impactful experience in ESD, the strategic plan—GAIA 20:30— prioritises climate action across all five programmes to address the urgent threats of climate change, biodiversity loss, and environmental pollution.
FEE's educational programmes, Eco-Schools, Learning About Forests and Young Reporters for the Environment, empower young people from over 50000 schools to create an environmentally conscious world through a solutions-based approach. The Green Key and Blue Flag programmes are globally recognized for promoting sustainable business practices and the protection of natural resources.
More at www.fee.global
About UNESCO
UNESCO, as the lead UN agency for Education for Sustainable Development (ESD), advocates and implements ESD through its global 'ESD for 2030' framework and its roadmap for the period 2020-2030, with a focus on five Priority Action Areas: policy, education and training, educators, youth and communities. UNESCO, as the lead UN agency for biodiversity education, has initiated activities focusing on the interlinks between biological and cultural diversity through ESD –notably in the areas of teacher and educator training, learning material development and youth empowerment– in the context of UNESCO sites (Biosphere reserves, World Heritage, Geoparks) and involving UNESCO Associated Schools (ASPnet).
More at https://www.unesco.org/en/education/sustainable-development
About North American Association for Environmental Education (NAAEE)
For five decades, the North American Association for Environmental Education (NAAEE) has served as the professional association, champion, and backbone organization for the field of environmental education. NAAEE is proud of many accomplishments to elevate environmental education as a primary strategy for creating lasting environmental change. NAAEE works with several partners in North America and globally, including government agencies and ministries, universities, early childhood educators, schools (K–12), non-formal institutions (zoos, museums, nature centres, science centres, community centres, etc.), foundations, and more. We have several partnerships with US Agencies, including EPA and NOAA, and a reach of more than 20 million through their networks. NAAEE is the Secretariat of the Global Environmental Education Partnership (GEEP) with advisors from around the world and an international platform to strengthen environmental education at the country and regional levels. As part of the GEEP, we manage the GEEP website, which includes more than 60 country profiles (showcasing what is happening around the world with EE), as well as case studies focused on effective practice.
More at https://naaee.org and www.thegeep.org