Image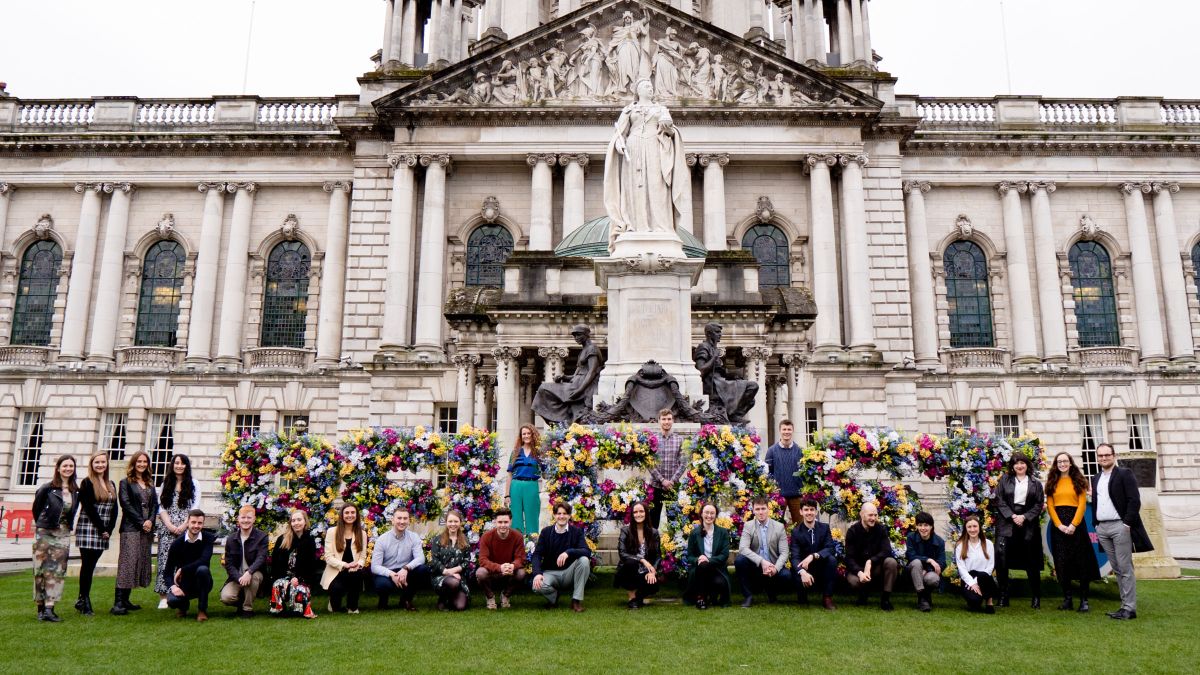 PRESS RELEASE – FOR IMMEDIATE PUBLICATION
Ruairi Brogan to Represent NI at Stateside Conference as Inaugural '30 Under 30 Climate Change-Makers' Present Their Climate Solutions
April 2023: Northern Ireland's inaugural 30 Under 30 Climate Change-Makers have completed their workshops with Ruairi Brogan, policy officer for sustainable agriculture at RSPB NI from Belfast, selected by class peers to represent Northern Ireland at the North American Association for Environmental Education Conference 2023 (NAAEE2023), taking place in October.
The programme—the first of its kind existing in the UK—is designed by environmental charity Keep Northern Ireland Beautiful and co-delivered with leadership and events consultancy Podiem, and draws on an international initiative introduced by NAAEE that empowers and engages young people making a difference to the environment.
Ruairi and his class peers were selected after a competitive application process in November 2022 and over the past six months have completed various workshops led by world-class leaders to develop as climate champions and build relationships with fellow young pioneers in the field.
At the final workshop, Ruairi presented his idea to combine his passions for both traditional music and climate action by creating a series of traditional Irish music get-togethers called 'Wild Seisiúns' in various wild locations, with the aim to build resilient communities, ignite passion, focus on culture and care, and, ultimately, inspire action. Ruairi's vision is to kick off his campaign during 'Window on Wildlife's Wild Week', with a launch event at Belfast Harbour reserve called 'A Good Night's Quack'.
Ruairi said: "Being selected by my peers to represent Northern Ireland at this year's NAAEE23 Conference is an honour.  I'm really looking forward to networking with like-minded people from across the globe and bringing learnings home to Northern Ireland. I thoroughly enjoyed the programme workshops and feel I have benefitted substantially from spending time with the guest speakers and my peers over the last few months. It has been a great example of real capacity building. I've always been passionate about the environment, and I now feel more confident in applying that passion to tackle the nature and climate crises.
Nina Hamilton, senior manager for international programs and the EE 30 Under 30 at NAAEE said: "It's wonderful to see Keep Northern Ireland Beautiful use our programme as a template and really make it their own. I'm delighted to represent NAAEE and have the opportunity to meet with such an impressive group of young individuals, and we look forward to Ruairi joining us in October."
As part of the programme, each of the 30 individuals were tasked with presenting the climate or environmental change they plan to affect as result of participating in the programme in just under 120 seconds at today's final workshop.
Other projects presented by the 30 Under 30 cohort included Harry Murphy's idea to use dogs in conservation detection here in Northern Ireland, which has been trialled and tested by Olive the Labrador Retriever and Chippie the English Springer Spaniel. Another project included Jacinta Hamley's initiative to host further Climate Craic Festivals in Northern Ireland that are free, family friendly and include educational activities from NGOs and eco-traders that aim to create climate optimism through community engagement.
The class was also placed into five diverse teams and tasked to identify an environmental issue and a workable solution, with £1,500 awarded to test the intervention. The groups presented their plans to a number of sectorial leaders including programme sponsors, Danske Bank, Pacem, Belfast City Council, and Pinsent Masons with representatives from Translink, the Housing Executive and Refill Quarter also in attendance.
Jenna Potter, Environmental Leadership Project Manager at Keep Northern Ireland Beautiful, and responsible for the 30 Under 30 programme said: "It's been incredibly rewarding to see the programme come to life as we had hoped. Working alongside the 30 young people selected to participate this year proves the passion and knowledge that we have here in Northern Ireland and reaffirms that we can make a positive difference to the climate crisis. We look forward to building the programme in the years to come so that we can continue to inspire and empower young environmentalists."
The 30 Under 30 Climate Northern Ireland Change-Makers programme is funded by the Department of Agriculture, Environment and Rural Affairs (DAERA), and additional corporate sponsors including Danske Bank, Pacem, and Pinsent Masons, and Belfast City Council.
For more information, please visit: www.keepnorthernirelandbeautiful.org/30under30-ccm
ENDS
NOTES TO EDITORS
The 30 Under 30 Class List
• Alix McDaid - Endangered Ireland
• Aoife de Bhal - RSPB
• Ashleigh Henry - PhD Student
• Callum Carville - Belfast IT
• Ciaran Ferrin - Ulster University
• Ciara Grogan - Graham Construction
• Dakota Reid - RSPB
• Emma Denton - Keep Northern Ireland Beautiful
• Emma McKeever - Greeting Relations
• Erin Galbraith - McCloy Consulting Ltd
• Gareth McClune - Barclays
• Harry Murphy - Keep Northern Ireland Beautiful
• Jacinta Hamley - Climate Craic
• James Rae - Solv
• Jordan Birt - Business in the Community
• Josh Armstrong - Responsible
• Moya Doogan - Environmental Éadaí
• Orlagh McNeill - Keep Northern Ireland Beautiful
• Rachel Vaughan - Queen's University
• Ralph Lavery - Catagen
• Rebekah Bajko - Student
• Reece England - Fermanagh and Omagh District Council
• Robbie Jamison - East Belfast Enterprise
• Ross Blackbourne - Queen's University (Student)
• Ross Portis - Westland Horticulture LTD/MR
• Ruairi Brogan - RSPB
• Sarah Walsh - Bread 41
• Sinead Murray - Keep Northern Ireland Beautiful
• Tom Cowderoy - Ulster University
• Una Barrett - Felix O'Hare
About Keep Northern Ireland Beautiful
Keep Northern Ireland Beautiful is a charity working towards the vision of a sustainable Northern Ireland, running environmental education programmes and awareness-raising campaigns, increasing volunteering opportunities and reporting on local environmental quality. Keep Northern Ireland Beautiful deliver many international awards including the Blue Flag for Beaches and Marinas and Green Flag Award for Parks and Open Spaces to improve the local quality of our environment and strive for environmental excellence. Keep Northern Ireland Beautiful are national coordinators for Eco-Schools in Northern Ireland, the world's largest international environmental education programme. Keep Northern Ireland Beautiful aims to promote Climate Action, Biodiversity Recovery and Pollutions Solutions to change behaviours and practices so everyone can enjoy a beautiful, resilient, and healthy environment.
For more information, visit www.keepnorthernirelandbeautiful.org.