Image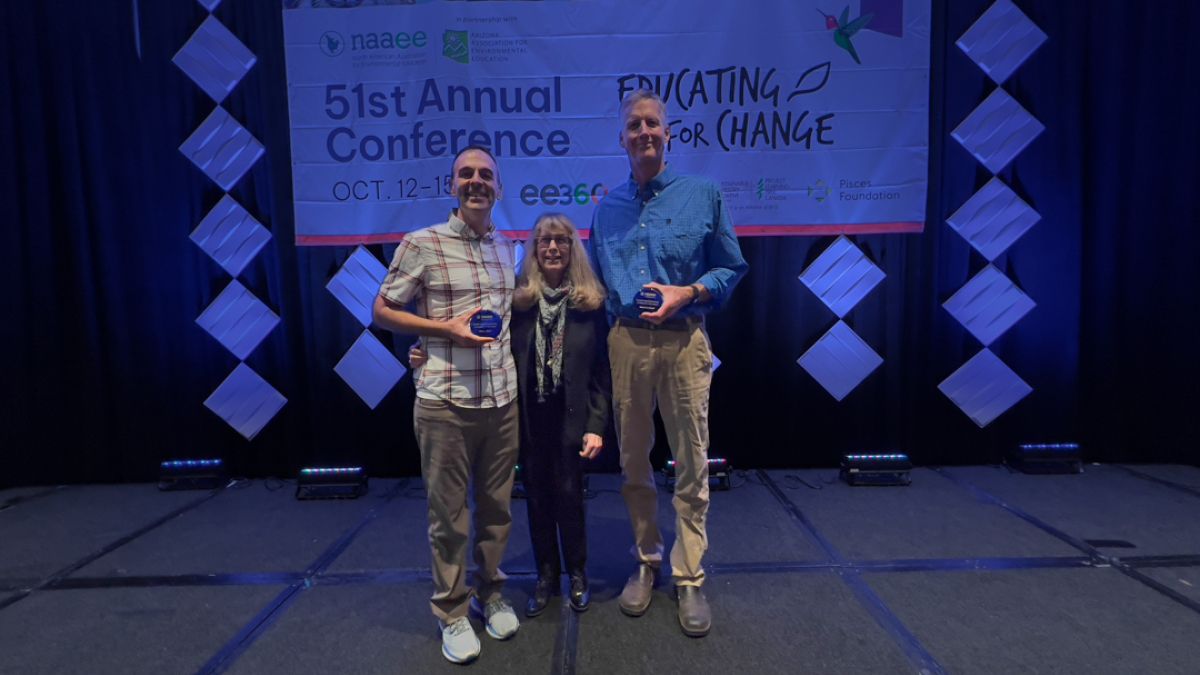 Program
Leadership: Awards for Excellence
Contact: Stacie Pierpoint | stacie@naaee.org
FOR IMMEDIATE RELEASE 
[Washington, DC, December 5, 2022] The North American Association for Environmental Education (NAAEE) is pleased to honor Professors Robert (Bob) Powell of Clemson University and Marc Stern of Virginia Tech with the 2022 Outstanding Contributions to Environmental Education Research Award. Established in 1987, this award recognizes exemplary researchers who study, report on, and promote effective environmental education. NAAEE presented the award to Bob and Marc at NAAEE's 51st Annual Research Symposium in Tucson, Arizona.
For nearly two decades, Professors Powell and Stern have collaborated on actionable research that addresses key questions in environmental education (EE), especially focused on measurement, teaching and interpretation approaches, and culturally responsive evaluation. They aim to improve development and implementation of high-quality EE programs through assessing participants' attitudes, knowledge, skills, and behaviors, as well as programmatic aspects that influence those elements. Their partnerships with nonprofits and government agencies ensure that this theoretically grounded work is taken up in practice.
Bob and Marc have received millions of dollars in funding to support their work, including grants from:
the National Science Foundation's AISL program to explore "what leads to better outcomes in informal STEM-based environmental education programs for youth,"
the National Park Foundation to build a culture of and capacity for environmental education evaluation in national parks, and
the Institute of Museum and Library Services to "identify the drivers of success in educational programs at nature centers and national parks in the United States."
Each has published more than 90 articles in peer-reviewed literature, which have garnered more than 4000 citations. In addition to their work focused on evaluating EE program practices, Marc and Bob have partnered with NAAEE and collaborators on an effort to help EE practitioners better understand culturally responsive and equitable evaluation (CREE).
"It's a real honor to receive this award. When we're all struggling with protecting the environment, addressing social justice, equity, diversity and inclusion, it is great to take time out to celebrate folks' accomplishments and we really appreciate y'all doing that for us." —Bob Powell
"We're very humbled and honored by being recognized." —Marc Stern
"For more than five decades, NAAEE has promoted excellence and impact in environmental education thanks to the tireless efforts of our members, supporters, and affiliate organizations," said Judy Braus, executive director of NAAEE. "This year, we are excited to highlight Bob and Marc, who have been at the forefront of environmental education research and practice for more than two decades, serving as role models for so many students at their respective universities who are now emerging as the leaders of the future."
Professors Powell and Stern are among nine award recipients—an impressive slate of individuals and organizations from North America selected across eight categories. For more information about the 2022 NAAEE Awards, including eligibility requirements, visit https://naaee.org/programs/leadership/awards.
***
About NAAEE
Since 1971, the North American Association for Environmental Education (NAAEE) has served as the professional association, champion, and backbone organization for the field of environmental education (EE), working with EE professionals across United States, Canada, and Mexico, as well as globally, to advance environmental literacy and civic engagement to create a more equitable and sustainable future. For more information on NAAEE, visit https://naaee.org.
Photo Credit: NAAEE
Photo Caption: Professors Bob Powell and Marc Stern receive the Outstanding Contributions to Environmental Education Research Award at the 2022 NAAEE Annual Research Symposium in Tucson, Arizona.