Image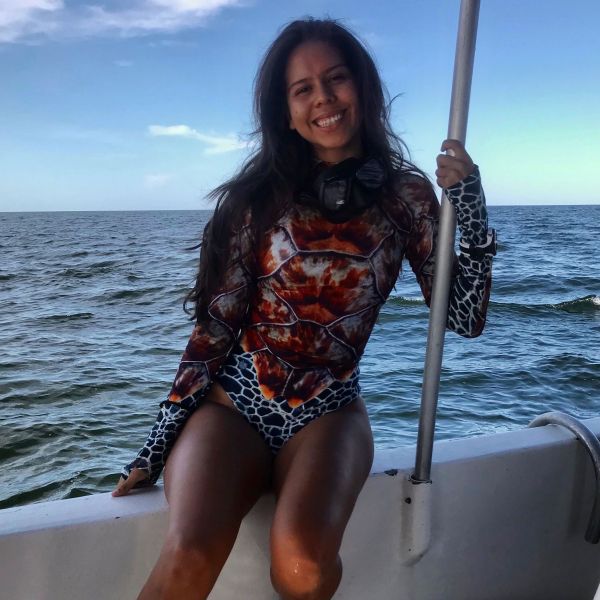 Hazel Araujo

Marine and Coastal Education Coordinator, Semillas del Océano
Age: 27
Guatemala
Hazel (she/her) is an ocean literacy and climate justice advocate who empowers young leaders to join her as ocean stewards through E-STEM, art, and reconnecting with nature.
How are you using education to build more sustainable and equitable communities?
In Guatemala, there is a saying that we "live with our backs to the sea." Most people don't realize the connection we have every day with the ocean. I aim to highlight this problem and work towards taking the first and most crucial step: start talking about the ocean!
As the education coordinator of Semillas del Océano, I've been an advocate for ocean literacy to more than 1,000 people, including children and youth of coastal communities in Guatemala. I've also created an ocean conservation leadership program, The Ocean Ambassadors. Since 2020, more than 100 students have graduated, and more than 60% were women and girls. Our students now actively participate in awareness campaigns and lead their own environmental education workshops. I also empower youth activism and political engagement as the president of the Guatemala Hub of Sustainable Ocean Alliance and as a youth delegate in international initiatives such as the UN Ocean Conference and youth climate summits such as LCOY Guatemala and RCOY Latinamerica. I'm now a role model to my students. You don't realize it at first, how much you touch their lives, but when you notice the way your students speak (and they sound like you!) and their actions, that is when you feel you have done your job.
Tell us about your journey to where you are today.
I've always considered myself a woman of science, and from an early age I aspired to be a famous scientist. I studied aquaculture and hydrobiological resources at the University of San Carlos in Guatemala, where I started scuba diving and discovered my one true love: coral reefs. Since then, I've collaborated with and led research, education, and awareness initiatives for the Mesoamerican Reef. I believe my passion for coral reefs divided my life into a "before and after." What changed the most was my perspective about what ocean conservation truly is: connecting with this fascinating world and realizing that if we protect the ocean we are protecting ourselves, and that we can only accomplish this if we do it together.
As a young woman in science in a developing country that doesn't prioritize environmental matters, it is often difficult to be listened to; but I have found the most powerful tool to achieve it: education. I am now a role model for children and youth in Guatemala, empowering them to become ocean stewards. I've realized that even though my dream when I was younger was to be a famous scientist, it is a more fulfilling goal now to empower more famous scientists⁠—it is better when there are more of us!
A LITTLE MORE ABOUT ME

What advice would you give to the next generation of leaders?

Believe in who you are and what you're capable of. Don't be afraid to make mistakes, as those are the moments that make you so unique. You can and you will!

If you were to choose one place to live for the rest of your life, where would it be and why?

The Caribbean coastal communities in Guatemala. A place of warm-hearted people, resilient coral reefs, immense biodiversity, and hope—it's a place with a thousand opportunities to build a better tomorrow.

What is your superpower?

A super-heart! I am grateful to be a sensible and emotional soul. That makes me a very passionate and committed person in everything I say and do.

How do you recharge?

Dancing alone—it reminds me to enjoy life and not take it so seriously.

Do you prefer sunrise, sunset, midday, or midnight?

I am a morning person; the sunrise is the best moment to take time for yourself, reflect, be grateful, and decide who you'll be this new day.