Image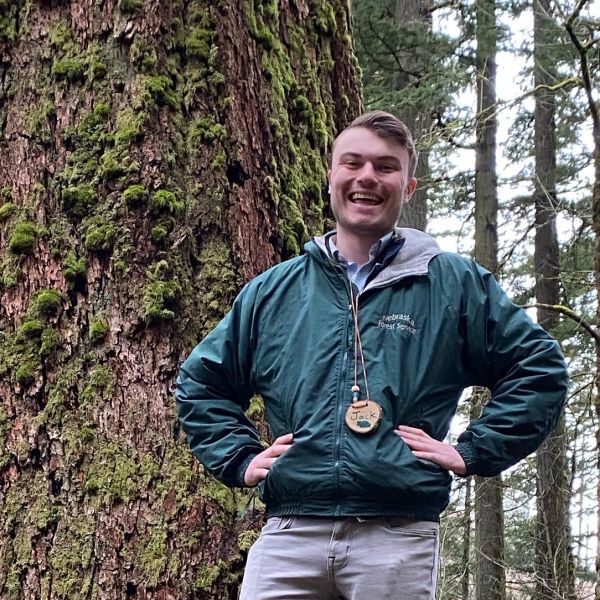 Jack Hilgert (he/him)

Conservation Education Coordinator, Nebraska Forest Service
Jack builds the capacity of educators, schools, and organizations to ensure a continuum of high-quality, non-biased environmental learning experiences are a part of daily lives of Nebraska's youth.
United States, Age 25 
---
How are you using education to build more sustainable and equitable communities? Tell us about your EE work and impact.
No good work happens in a silo. My success is because of my team in Nebraska. 
In my role as Conservation Education Coordinator for the Nebraska Forest Service, my efforts center on coordinating two national environmental education curriculum programs, Project Learning Tree and Project WET, in Nebraska.
Our statewide network of +50 partner organizations, 35 volunteer facilitators, and 20-member steering committee work tirelessly to give educators (K-12, early childhood, nonformal, and more) the training and tools they need to integrate activities from these high-quality, non-biased, well-respected environmental education curricula into their daily work with Nebraska's children. 
We primarily achieve this through a wide range of professional development opportunities for educators, a statewide "Tree Trunk" resource check-out kit program, field trips to Nebraska Forests, educational festivals, a "Trees in the Classroom" program, and supports for various state environmental learning youth competitions (Envirothon, 4-H, Science Olympiad).
In 2022, my programs trained more than 1,500 educators which resulted in more than 55,000 youth experiencing PLT and/or WET in their lives last year. This amounts to one in ten children in the great state of Nebraska. 
As a result of my work since assuming management three years ago, Nebraska has consistently ranked as one of the top states for Project Learning Tree and Project WET implementation in the nation. Previously, the programs reached only 200-300 educators a year. 
Additionally, I am the Vice President of the Board of Directors for the Nebraska Alliance for Conservation and Environmental Education, Nebraska's NAAEE Affiliate. 
In the past year, we have hosted Nebraska's first in-person statewide Environmental Education Conference in over a decade and begun a Landscape Analysis of environmental education services in the state. I am most proud of our Future Leaders Program, a scholarship-mentorship program started in 2022 to support college students who hold an identity or identities of historically underrepresented groups in the conservation and environmental sectors.
We all stand on the shoulders of giants. I greatly appreciate the many amazing individuals who contribute to my success today as well as those whose past work paved the way for these outcomes. 
All of these projects, programs, and initiatives advance environmental literacy in Nebraska. I believe EE is for everyone, everywhere and work to ensure that EE is an essential component in the lives of all 552,000 of my students, the children of Nebraska.
Tell us about your journey to where you are today. What inspired you? What has your path been like?
As long as I can remember, I have always loved nature. Growing up, I was exposed to a wide range of animals and habitats at the world-class Omaha's Henry Doorly Zoo & Aquarium. 
Thanks to my supportive parents, I became a zoo volunteer in the 5th grade where my spark was lit for environmental education. I still remember my first training where I experienced lessons from Project Learning Tree and Project WET, two programs I manage today.
I continued volunteering throughout middle and high school; after graduating, the Omaha zoo hired me as a Zoo Instructor. While studying Fisheries and Wildlife at the University of Nebraska-Lincoln, I expanded my horizons with internships at Riverside Discovery Center and Zoo, Sunset Zoo, and Lincoln Children's Zoo. It was also during the fall of 2018 that I was first trained in Project Learning Tree, Project WET, and Project WILD in an environmental education course. UNL's School of Natural Resources offered an outstanding curriculum and a supportive environment where I could thrive in and out of the classroom.  
From the ages of seven through twenty, I wanted to be Zoo Director; however, after my last internship in Kansas I realized education was my true calling. There I wrote and arranged summer camps for Sunset Zoo, primarily relying on PLT, WET, and WILD, and empowered my teammates (who were all preservice teachers with no natural resource background) to conduct high-quality environmental education with students. 
During my senior year of college, I applied to a temporary Conservation Education position at the Nebraska Forest Service which dovetailed into my current position as Conservation Education Coordinator as well as Nebraska's State Coordinator for Project Learning Tree and Project WET. 
In 2021, I was elected to the board of directors of the Nebraska Alliance for Conservation and Environmental Education, and in 2023 was elected Vice President.
A Little More About Me

What (or who) keeps you hopeful for the future?

The teachers, students, and organizations that I have the privilege to work with everyday keep me hopeful with their eternal excitement and enthusiasm for environmental education. I continuously see individuals move from awareness to action as they grow in environmental literacy, which assures me that there will be a brighter tomorrow.

Who (or what) do you look up to as inspiration?

I am continually astounded by the rich network of like-minded, like-missioned individuals that I have the privilege to work alongside in Nebraska and across the United States, especially in my Project Learning Tree and Project WET families. There is a rich tapestry of magnificent professionals, past and present, who serve as inspiration and tirelessly provide the education we need for the world we want.

If you could have one superpower, what would it be?

Ensure that every child spends time with and learns about nature everyday.

What's a passion project of yours outside of your work?

Directing high school speech and theater at my alma mater. #SpeechIsNeat