Image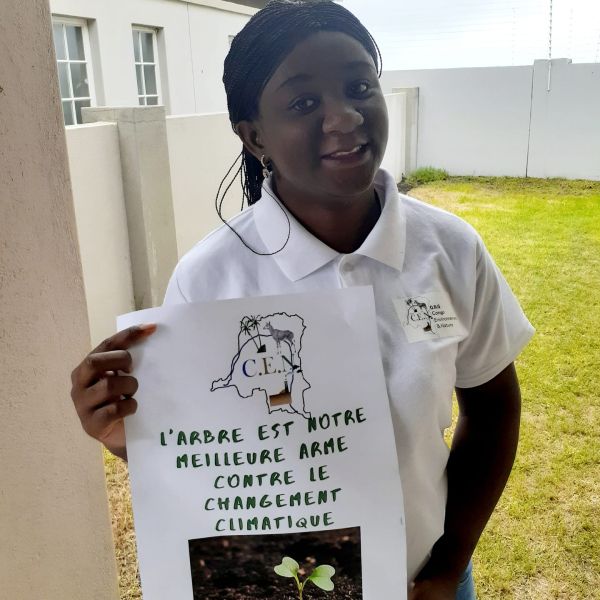 Mariam Kabamba (she/her)

National Coordinator, Congo Environnement et Nature
Congo, The Democratic Republic of the
Mariam empowers children and young leaders in the Democratic Republic of the Congo to contribute to the protection of our planet, creating green economic opportunities and amplifying youth voices in climate education.
About Mariam Kabamba
Mariam Kabamba is a young woman who was born and raised in Lubumbashi in the Democratic Republic of the Congo. Her interest in the environment started when she was in high school, when she noticed how the environment in her country was not managed well and how people can suffer as a result. In 2009, She worked as a voluntary road mender as part of a project to clean the city of Lubumbashi. From 2010 to 2012, she then led public relations for the movement, Ecological Forum of Young Congolese. She holds a bachelor's degree in geology from the University of Lubumbashi, and a Bachelor of Science in environmental management from the University of South Africa.
For the past 5 years, Mariam has worked as a national coordinator at Congo Environnement Et Nature. Her responsibilities are to coordinate the organization by working closely with all the departments: this includes the planning and direction of internal and external meetings, and the conducting of research for projects and articles on the environment, mining and forests.
Furthermore, Mariam has worked as a Group Moderator at the Global Environment Education Partnership (GEEP) since April 2022. She also volunteered at the Legacy Academy of Urban Farming in Johannesburg, South Africa where she developed environmental education schemes on urban agriculture.
Mariam's Community Action Project (CAP)
Mariam will be developing a Climate Young Leaders program in the Haut Katanga province/ Democratic Republic of the Congo. The project will implement an 8–12-week train-the-climate young leaders program for 20 Congolese youth leaders in the Haut Katanga province/ DR Congo to join together in an environmental leadership program focused on environmental literacy, leadership development, civic engagement, with a concentration on climate change issues in the DR Congo. The young leaders will be trained to use a youth-focused environmental and climate leadership training program that they can adapt for their organizations as well as create a climate education advocacy plan.
Mariams's project will focus on accomplishing three initiatives: 
The first initiative will focus on helping young leaders gain knowledge of the environmental concerns affecting their communities and the world, develop leadership skills for themselves and others, and increase their capacity to wield the levers of power to effect change.
Secondly, participants will be able to learn about the problems caused by climate change and how to solve them through practical, community-based projects.
Finally, establishing long-term relationships for support and resource sharing and developing a plan for advocating for climate education will also help forge strong links between emerging leaders and subject matter experts from various cities.