Image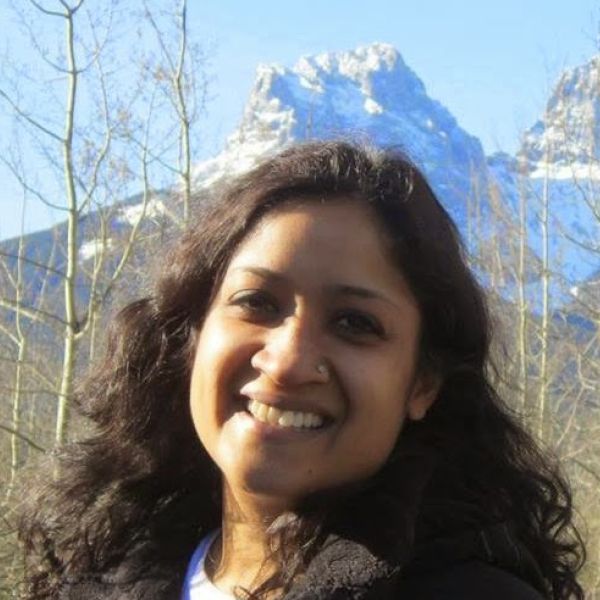 Natasha Sarkar

Teacher, Inner City Youth Development Association
Natasha (she/her) chases mountains—no plans, just her and the wildlife that live on them. She enjoys hiking and being with people who feel a connection to nature. It's no surprise she'd travel to any forest path hidden in an urban landscape that has the sights, smells and sounds of being transported away—think any of the green spaces in Alberta, British Columbia, Texas, Indiana, New York or Washington. She's also been spotted in rural paddy fields in Eastern India, among Zen gardens in Japan, ancient caves in New Zealand and even in the middle of the Pacific Ocean!
The Four Directions Healing Garden Project
The Project
This student-led project is to design and implement a sustainable garden/healing space with Alberta native plant species in consultation with traditional Indigenous Elders from our community. Medicines and sacred plants such as Cedar, Tobacco, Sage and Sweetgrass may be planted. This garden will commemorate Canada's Residential School history and honor the survivors with intergenerational trauma who make up our student body. The Healing Garden will contain a 'Prayer Tree', to be decorated with names of deceased victims of trauma from Indian Residential schools. Students will work with me, their Social Studies teacher, and learn grant writing skills, about building partnerships in the community, with design experts and horticulturalists, to create a landscape that beautifies our school grounds sustainably.
Goal

Engage students to demonstrate their resilience, and to address immediate grief students are feeling considering the discoveries of thousands of unmarked graves at multiple Residential Schools. Working over the course of the school year will allow students to educate themselves and incorporate aspects of language and culture revitalization.
Long Term Goals
Longer term goals include giving students a chance to (re)connect to their unique culture, process grief, become experts in the native horticulture of our area, and beautify space in a sustainable way.
First, a Healing Garden Advisory Committee will be formed in September with students and our resident Elder. This committee will meet once or twice weekly to discuss project planning and action steps that students will lead.
Second, during October-March, research and selection of a landscaping company that has expertise to help us understand the space in which we want to put our Healing Garden. We will reach out to horticulturalists who could advise us how to use planters to create sustainable urban spaces with plants native to our area. Research into ways the Alberta Native Plants Council, The Edmonton Horticultural Society and Garden Clubs might help support us will also be conducted by students. Students will write posts for social media and grants and explore funding opportunities.
Third, students will travel off site to visit and learn about traditional plants in October and April to visit a Healing Garden to gain knowledge, ideas and inspiration. Planting and preparation of soil will be undertaken before winter.
Fourth, plants will be selected in the spring (perhaps winter) and planted with the help of our landscaping partner.
Fifth, students will plan and lead a Community Celebration in May or June to reveal our Healing Garden and speak about the significance of the project.