Image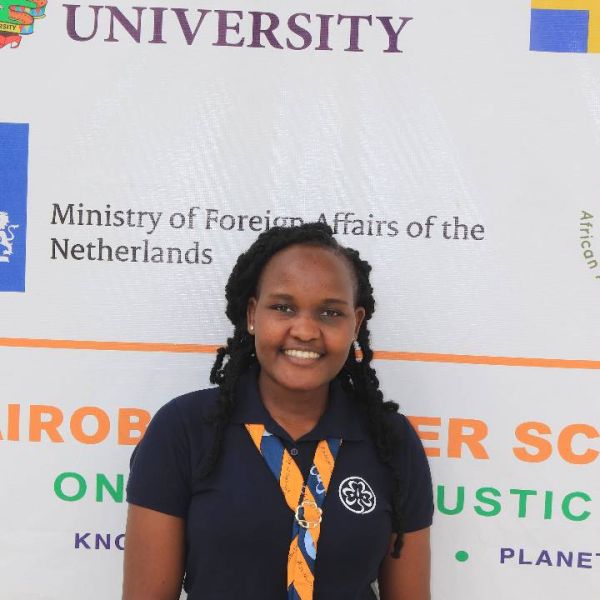 Pamela Kiambi

UN Challenge Badge Program Assistant at the World Association of Girl Guides and Girl Scouts (WAGGGS)
Pamela is an environmental activist and champion for the UN's Tide-Turner Plastic Challenge programme, educating young people and communities about ocean protection.
Kenya, Age 27
---
How are you using education to build more sustainable and equitable communities? Tell us about your EE work and impact.
As an environmental education advocate, I have implemented non-formal educational programs that educate young people about the importance of safeguarding our planet. Through hands-on activities, I encourage young people to understand the impact of their actions on the environment and motivate them to make positive changes in their own lives.
In my work with the World Association of Girl Guides and Girl Scouts (WAGGGS), I am a champion for the UN Plastic Tide-Turner Challenge initiative, which addresses the issue of plastic pollution in our oceans. Through this initiative, I work with young people to promote education, advocacy, and community action. Through my work with WAGGGS, I have collaborated with young girls and women from all over the world to promote environmental education and take action in their communities. Together, we have raised awareness about the issues facing our planet and inspired others to join us in the fight against climate change.
Additionally, I maintain a blog dedicated to environmental education, where I share my knowledge and experiences with a wider audience. Through my blog, I aim to empower others with the knowledge and tools they need to make a positive impact in their own communities.
Tell us about your journey to where you are today. What inspired you? What has your path been like?
I have always been passionate about the environment and the crucial need to protect our planet. My journey began with my advocacy work. I was inspired to take action after seeing the devastating impact of climate change on our planet. One issue that greatly concerns me is the problem of plastic pollution and its devastating impact on the environment and the health of local communities. I felt compelled to do something to make a difference.
Through my work with the World Association of Girl Guides and Girl Scouts, I discovered the power of community action and collaboration. Working with girls and young women from all over the world, I realized that we all share a common goal: to protect our planet and ensure a sustainable future for all. My journey has been filled with challenges, but also with moments of great joy and fulfillment. Seeing young people come together to take action on issues like plastic pollution and climate change has been incredibly inspiring.
Today, I continue to advocate for environmental education and action. My hope is that through education and collaboration, we can all work together to create a more sustainable and just world.
A Little More About Me

What advice would you give to the next generation of leaders?

Answer: It's important to remember that even small actions can greatly affect the environment and society as a whole. That's why it's crucial to think about the long-term consequences of our choices and work towards solutions that benefit both present and future generations while also promoting diversity and inclusivity.

What are you happiest doing?

I am happiest when I am helping others grow and achieve their goals.

What's your favorite food to celebrate with?

I like to celebrate with ice cream and a big bowl of pasta!

How do you recharge?

Engaging in a creative activity like DIY projects.