Image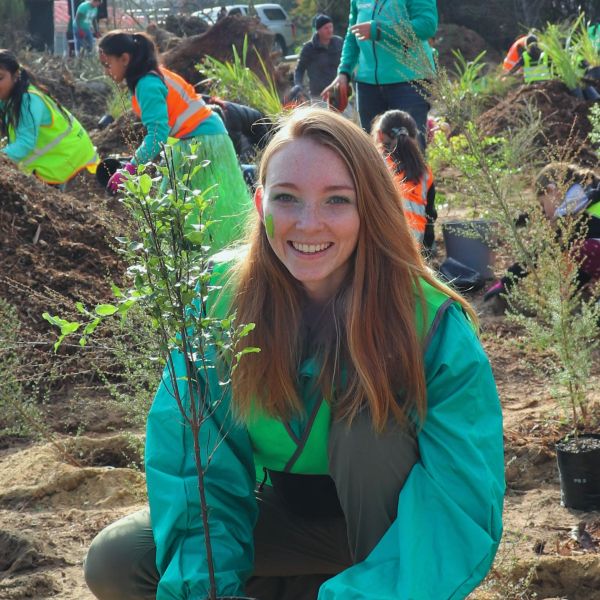 Sian Crowley (she/her)

Discovery Programme Manager, BLAKE NZ
Sian sparks transformative change by inspiring rangatahi/youth, kaiako/teachers, and the wider New Zealand community, and developing stronger intergenerational connections with the environment.
New Zealand, Age 25 
---
How are you using education to build more sustainable and equitable communities? Tell us about your EE work and impact.
At Kids Greening Taupō, we recognised the need for online environmental and nature connection resources during the pandemic. We created innovative and globally-utilised resources, which empowered teachers and students to engage with their local environment through place-based nature education. 
In my current role as a Programme Manager at BLAKE, we've been able to provide immersive marine education experiences utilising virtual reality technology. By bringing the ocean into the classroom through 360° videos (captured by New Zealand Geographic), students are immersed in different marine environments, learning about the impacts of overfishing and pollution, and identifying ways in which we can take action for our environment. By educating and inspiring rangatahi (young people), we are fostering a new generation of kaitiaki (guardians) who are actively working towards creating a better future for all. 
I have been a member of the National Leadership Team for Forest & Bird Youth (F&BY) since 2017, founding the F&BY Wellington Hub in 2018. Through collaboration, mentorship, and coordination nationally, we have created a strong network of young environmental leaders active in conservation, restoration, and advocacy. 
I also sit on the National Executive Committee and local branch for the NZ Association for Environmental Education, and have recently started a Nature Connection podcast called "The Seed Pod."
Tell us about your journey to where you are today. What inspired you? What has your path been like?
My greatest memories from my childhood are playing and learning in nature with my whānau/family. I remember spending my time climbing trees, carving acorns, finding bugs, and playing hide and seek. I was lucky to have a nanna who was involved in Forest & Bird and she invited me to events and signed me up for their Kiwi Conservation Club. By having these experiences, I developed a deep connection with nature early on in my life. 
Since my early teen years I have been constantly involved in conservation/restoration volunteering, youth leadership, and innovation in environmental education. In high school I had impactful opportunities through the Kiwi Forever Programme, BLAKE Inspire, and Kids Greening Taupō. I changed what I was going to study at university because of these programmes. 
Working as an environmental educator and programme manager, I have been able to combine all my passions: design, photography, mentoring, event coordination, and nature connection. My work is precious. I encourage passions to spark and imaginations to run wild; empowering tamariki (children) to grow into kaitiaki (guardians) for the environment as young leaders. Through tuakana-teina (intergenerational mentorship) and collaboration, I am working to build a lasting change in our relationship with the environment.
A Little More About Me

What's a passion project of yours outside of your work? 

The Seed Pod. podcast is my passion project. Together with guests we explore nature connection on a deeper level, sharing stories from childhood, adventures, experiences and nature facts, all in the hopes that we can collectively have a place to share in the awe of nature. In a world full of challenges, this is a space to celebrate connection, to the environment, people, and wellbeing, through storytelling. We take listeners with us, sparking curiosity, admiration, and care for nature. In turn we create a reminiscent base for positive action. You can listen to The Seed Pod here.

If you could be any animal or plant, what would you be and why? 

I would be some sort of lichen. Lichens are a mixture of fungi and algae which live symbiotically, nurturing one another. I love collaboration and I think lichens are fascinating, diverse, and beautiful—they can also heal many ailments!

If you were to choose one place to live for the rest of your life, where would it be and why?

Aotearoa/New Zealand - There is no place better than home. We are so lucky and privileged to live in such a gorgeous place, filled with unique and charismatic species and glorious landscapes!

Would you rather live underwater or in the sky? 

I'd rather live underwater—so much to discover right under the surface!