Image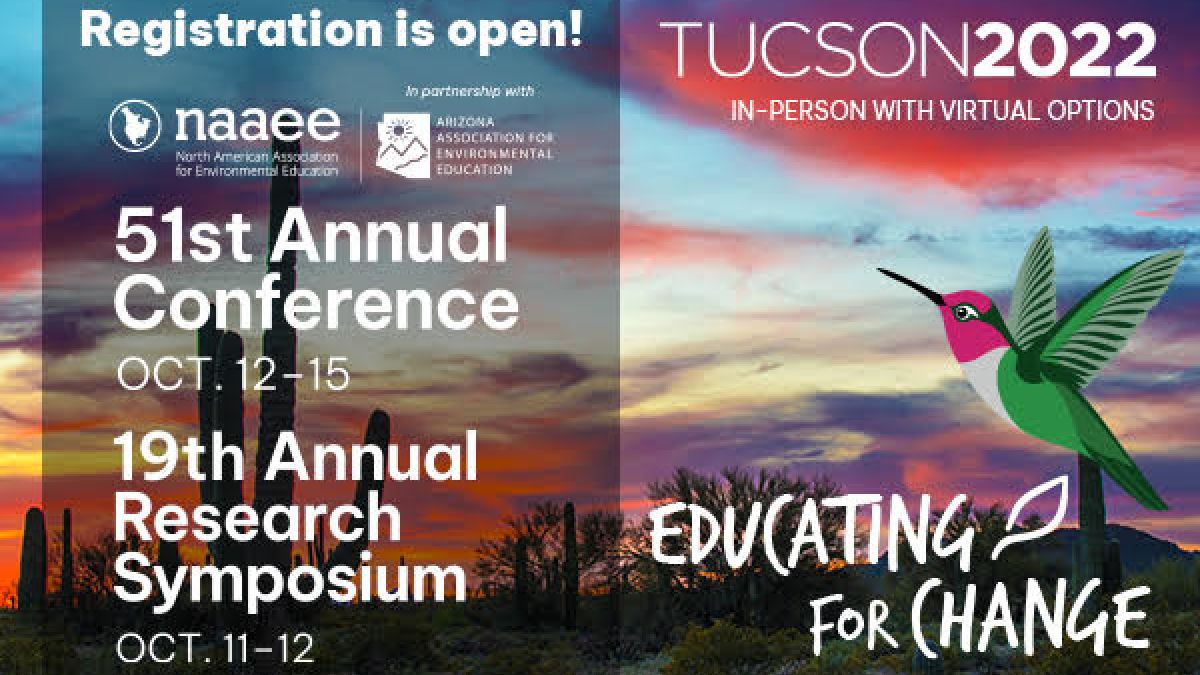 Category
Message from the Executive Director
Action on behalf of life transforms. Because the relationship between self and the world is reciprocal, it is not a question of first getting enlightened or saved and then acting. As we work to heal the earth, the earth heals us.
—Robin Wall Kimmerer, Braiding Sweetgrass: Indigenous Wisdom, Scientific Knowledge, and the Teachings of Plants
Dear Colleagues:
Here in the Eastern United States, summer wildflowers are giving way to slightly cooler mornings, golden light, and long shadows that signal a change of seasons. Grocery stores and coffee shops are brimming with everything pumpkin spice and a few bright red sassafras and sumac leaves offer hints at the fall colors to come.
Whether it's the approaching change in seasons or the start of a new school year, fall is a time of anticipation. And at NAAEE, we think it's the most exciting time of the year because we get to see YOU—our friends and colleagues—at NAAEE's Annual International Conference and Research Symposium! 
It's been three years since we've gathered in person and we could not be more excited to welcome all of you to NAAEE's 51st Conference and the 19th Research Symposium in Tucson, Arizona during the week of October 10th. As we gather, we'll renew connections, learn from one another, and get inspired for a year of new possibilities. For those who can't join in person, the conference will include a virtual component.
Our 2022 conference theme, Educating for Change, focuses on strategies to inspire positive societal change and to scale our impact through collaboration. We'll explore how education can accelerate our journey toward social justice and inclusive programming. We'll also focus on the critical role of education in confronting climate change—including bringing hope and solutions-based thinking to our work, along with a focus on education policy and climate justice. More than 300 in-person and 110 virtual sessions will focus on green careers, conservation education, green schools, socio-emotional learning, sustainable communities, connecting all audiences to nature, and more!
Our plenary speakers this year feature celebrated leaders and experts, such as Dr. Robin Wall Kimmerer, renowned botanist, author of Braiding Sweetgrass, and citizen of the Potawatomi Nation; Julie Packard, founder of the Monterey Bay Aquarium and recipient of NAAEE's 2022 lifetime achievement award for her support of education and conservation; and Leander Lacy, a talented social scientist and JEDI leader.
At our opening ceremony, we're honored to be joined by Tucson Mayor Regina Romero, to have a special message from EPA Administrator Michael Regan, and to have our partners at Pratt & Whitney announce the winners of our Global E-STEM Excellence Prize. Our closing plenary features one of today's leading nature photographers and conservationists, Gerry Ellis; two of NAAEE's latest 30 Under 30 awardees, Renata Koch Alvarenga (Brazil) and Jack Baker (Scotland); and strategist and design researcher Nick Okafor. Early childhood educator and author Sheila Williams Ridge will moderate.
Our Research Symposium, co-chaired by the outstanding duo of Kathryn Stevenson and Scott Morrison, will feature plenary speakers Dr. Viniece Jennings, a public health expert at Agnes Scott College, who explores urban green spaces and health in the context of ecosystem services, environmental justice, and social cohesion, and Dr. Alberto Arenas, a professor at the University of Arizona, who focuses on pedagogy and environmental sustainability, experiential education, and the decolonization of education.
While we're in Tucson, we'll also have the chance to experience the unparalleled beauty and complexity of the Sonoran Desert ecosystem through field trips that blend local flora and fauna with the music and culture of the region.
The early bird registration deadline is September 9th, so don't miss out! Follow this link to register today!
We are deeply grateful to LoriAnne Barnett Warren, our extraordinary conference chair and the president of the Arizona Association for Environmental Education, and to colleagues across North America and around the world who are helping to pull this event together. We look forward to seeing you in Tucson!
Judy Braus
Executive Director
Delicious autumn! My very soul is wedded to it, and if I were a bird I would fly about the Earth seeking the successive autumns.
—George Elliot