Image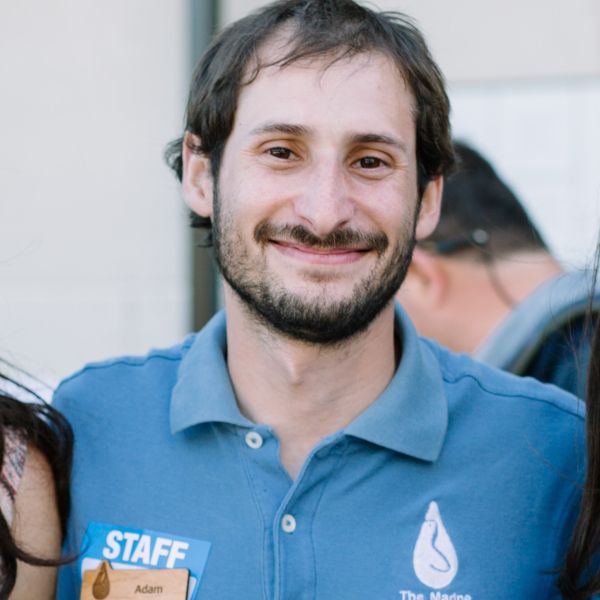 Adam Ratner

Associate Director of Conservation Education, The Marine Mammal Center
30 Under 30
CCC Fellow
Changemaker Grantee
2017
2021 EE 30 Under 30 Changemaker Grant Project
Climate Literacy Collaborative
The Marine Mammal Center identified a gap in support for environmental educators and a continued need for capacity-building and created the Climate Literacy Collaborative. New capacity-building initiatives will develop a series of workshops and a climate solution toolkit that address current deficiencies in environmental education and will support resilient communities and healthy ecosystems through climate adaptation and mitigation strategies. The Climate Literacy Collective will serve as a resource for capacity building, program exhibit design, and message development. It will also serve as a community-scale model for efforts to tackle climate change education at a collective level.
**********
2019 #WhereAreTheyNow Update
I just entered my 11th year at The Marine Mammal Center, the world's largest marine mammal hospital and education facility. I also recently finished teaching my 2nd 6-month long study circle course for environmental educators on best practices in climate science communication and built a climate ambassador program for high school students where 15-17-year olds engage thousands of visitors to the hospital around climate change science and solutions. Since I joined the EE 30 Under 30 community, we have continued to see increased engagement in ocean conservation among staff, volunteers, and our hundreds of thousands of visitors. Having the opportunity to see and learn from other amazing individuals in our field has provided me with such wonderful inspiration and support in my work, as well as resources to improve my own EE skills and knowledge. My advice to emerging leaders in EE is to talk to each other! Too often, we silo ourselves off within our own organizations and we lose out on the opportunity to collaborate, share ideas, and increase our collective impact. I am excited about the pace at which we can create powerful environmental movements - we are not waiting for science to save us, and instead can focus on mobilizing communities to take action on issues such as climate change and ocean trash.
**********
EE 30 Under 30 Biography
Adam holds the enviable role of Guest Experience Manager at The Marine Mammal Center, an educational center as well as the world's largest marine mammal hospital. Every day he challenges visitors to think differently about ocean conservation using the stories of individual patients that are rescued by the Center. Adam's work, directly interacting with thousands of visitors each year, allows him to make significant contributions to protecting the environment and achieving the Center's mission of advancing global ocean conservation. His background in science and psychology inspires him to develop more effective communication practices around the complex environmental issues we see today.
Adam not only manages all of the public programming and exhibits at the Center, but he also leads numerous sustainability initiatives. He works tirelessly to incorporate topics including climate change, ocean trash, and sustainable seafood into the Center's guest experience, in some cases exposing visitors for the first time to the simple idea that their actions have an impact on the ocean. In addition to shaping the experience of 100,000 visitors each year, Adam also volunteers weekly on one of the Center's animal care crews, which is a unique opportunity for him to directly help the hundreds of sick and injured marine mammals that are rescued along California's coastline each year.
Managing over 100 volunteers, Adam has strengthened the internal training programs to ensure that the Center's visitor programs use the most current and effective communication and engagement practices. Adam has worked diligently to establish an effective interpretation framework at the Center, incorporating the most relevant, timely and critical information into messages and programs.
Adam is passionate about sustainability initiatives and collaborates with many other environmental education organizations, serving as a leading member of the National Network for Ocean and Climate Change Interpretation, a member of the Bay Area Sustainable Seafood Alliance, and a founding member and Steering Committee member for the Bay Area Climate Literacy Impact Collaborative. He is also honored to work with an amazing team of educators as a Community Climate Change Fellow with the National Association of Environmental Education.
Adam started his career in research at various labs in the United States studying animal learning, behavior and sensory systems, but changed fields to conservation education as he discovered the wonder of marine mammals and the various threats they face.
---
2017 CCC Fellow
Adam Ratner is the Guest Experience Manager at The Marine Mammal Center in Sausalito, CA, a nonprofit marine mammal hospital and science center. He coordinates the day-to-day visitor and education operations, including training and managing 130 education volunteers, and managing tours, classroom programming, and exhibits.  Adam also leads numerous sustainability initiatives and education programming on topics including climate change, ocean trash, and sustainable seafood. In addition, he is one of the 1,000 volunteers at The Marine Mammal Center, volunteering up to 4 times a week, caring for the harbor seals, elephant seals, and sea lions during the week, and as part of the rescue team on Fridays and Saturdays. Adam previously served as the primary educator for the Center, responsible for teaching programs for preK-aged children through senior citizens, and as the Youth Programs Coordinator, managing a program for high school students to care for marine mammal patients. Before the Marine Mammal Center, he conducted research on animal behavior in labs around the county, studying bird hearing and speech, and fish learning and memory.
Fellowship Project
Through a system of training classes focusing on climate change, we will introduce hundreds of adult and youth education volunteers and staff to the science of climate change; providing them with tools for interpreting the science to audiences of all ages, and techniques to guide guests to identify solution-based actions to reduce their carbon footprint and become better environmental stewards. Leveraging The Marine Mammal Center as an NAAEE partner, the training classes will enhance the the ability of front line staff, volunteers, and community leaders to communicate about climate change effectively to the guests of The Center, and environmental organizations in the Bay area and beyond. The training will leverage the Center's reputation, and highly visited facility, to reach over 100,000 people a year. The training offerings address numerous critical areas, such as opportunities for the community to participate in continuing education on ocean health and climate change; giving dedicated, environmentally-focused individuals in the community the tools to become successful non-formal educators, creating informed citizens and fostering an appreciation for volunteerism and community involvement. 
Given our current volunteer community of non-formal educators, and visitor demographics, we anticipate to reach over 120 current adult and youth education volunteers, 40 Center staff, and to train 80 new non-formal educators, starting at age 15 through adult seniors. These trained individuals will be able to reach approximately 100,000 people, over one year, who visit The Marine Mammal Center, participate in outreach events within our 600-mile range of California coast, and visit our new hospital for Hawaiian monk seals on Kona, Hawaii. We expect to see dramatic shifts in climate change knowledge and communication in our education corps (to be evaluated through pre- and post-training surveys) through our continuing education, and in visitor behavior and receptiveness to climate change education.
The climate change program will be delivered over the course of one year and consist of interactive trainings and informational handouts for The Marine Mammal Center staff, current education and Center volunteers, and new training offerings for interested members of the community. Digital training tools, including a website dedicated to climate change science, interpretation and solutions, as well as a webcast of the trainings will also be produced.  
This project builds upon the system of the National Network of Ocean and Climate Change Interpretation which provides staff and volunteers at respected, highly trafficked environmental organizations with climate change science and scientifically-tested communication strategies from social psychologists, to guide visitors toward strategies to reduce their fossil fuel use. This "train the trainers" program will reach hundreds of thousands of people each year and is easily replicable by other organizations, using the tools created from this program.  The program will empower individuals and communities with the science of climate change and solutions to reduce their fossil fuel use. Bringing together experts from different fields of science, communication, and social psychology allows us to build messages that are powerful and relatable, leading to stewardship in our communities, while being consistent across numerous organizations around the country.