Image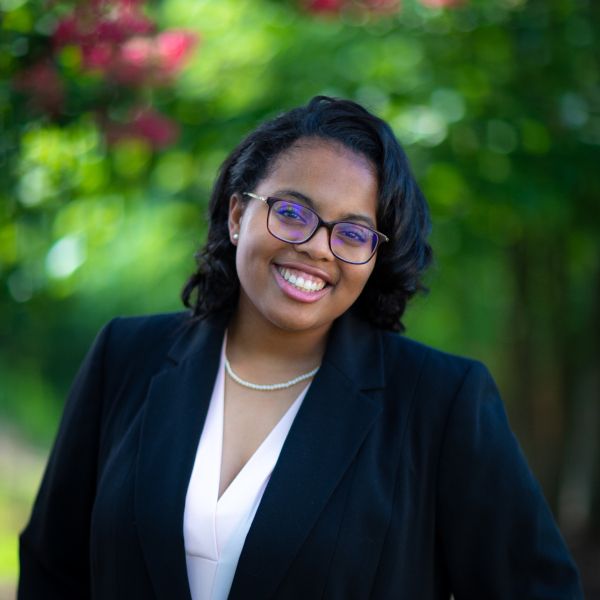 Cameron E. Oglesby (she/her)

Environmental Justice Journalist, Storyteller, Intrapreneur, and Community Organizer
Cameron is an environmental justice advocate using the power of storytelling and coalition-building to bridge the divide between influential institutions and communities on the ground.
 United States, Age 24
---
How are you using education to build more sustainable and equitable communities? Tell us about your EE work and impact.
My EE work has been as an advocacy/solutions journalist, oral historian, podcaster, event planner, and campus and community environmental justice organizer. 
I've spent the last six years as a student in North Carolina working with community leaders to develop climate education initiatives, curate exhibitions, influence university committees and hiring decisions, and report on environmental racism, infrastructure, policy, land, and agriculture. My award-winning written and audio journalism has appeared in The Nation, The Margin, Grist, Southerly, Scalawag, Earth in Color, Environmental Health News, and Yale Climate Connections. 
I'm also the project coordinator and creative lead for The Environmental Justice Oral History Project, a developing storytelling hub that combines oral history collection, journalistic partnerships, research, podcasts, and events to elevate the personal and place-based narratives of under-covered communities impacted by environmental injustices across the U.S. South. As a new board member for the Rural Beacon Initiative and a representative for the Warren County Environmental Action Team, I continue to advocate for rural, BIPOC Southern communities through community-institutional network building, storytelling, and strategic support. 
I am continuing my work by developing a very necessary book on the layered history of systemic environmental racism in the U.S. with environmental justice movement leaders.
Tell us about your journey to where you are today. What inspired you? What has your path been like? 
I started out interested in studying ecology and environmental science, but as I began organizing as an undergraduate, I started to reevaluate how best to optimize my impact. I gradually transitioned into place-based storytelling as I found solidarity in the environmental justice communities of Eastern North Carolina. I realized that perhaps the most needed work is in making sure the voices of those historically left out of spaces of influence are re-centered. My view of storytelling is any form of engagement that educates, elevates, and mainstreams community knowledge in our understanding of sustainability. I've built an understanding of science, public policy, corporate decision making, and frontline organizing strategies so that I can best communicate the issues of environmental racism and climate harm to a wide variety of audiences and stakeholders. This has shown up in my journalism, my oral history work, my community advocacy and strategy work, and my development of research and public resources.
Ultimately, I'm spurred forward by a deep-rooted care for ancestral farmland that's been in my family for almost 100 years in Maryland – a rare example of Black farm ownership in this country that I have seen reflected in the communities I work with.
A Little More About Me

If you were to choose one place to live for the rest of your life, where would it be and why?

In Upper Marlboro, MD on my family's farm. That's the long-term plan, to become the fifth generation to take up and take care of our abundant centennial farm.

What advice would you give to the next generation of leaders? 

Learn your history and be sure to center that history in the strategies you develop and the solutions you propose. People have been doing this work for a long time; it is critical we ground our future in the love, ambition, and community-building of our ancestral land stewards.

What are your hobbies? 

Reading, painting, and container gardening.

Do you prefer sunrise, sunset, midday, or midnight? 

Midday; I love the sun.