Image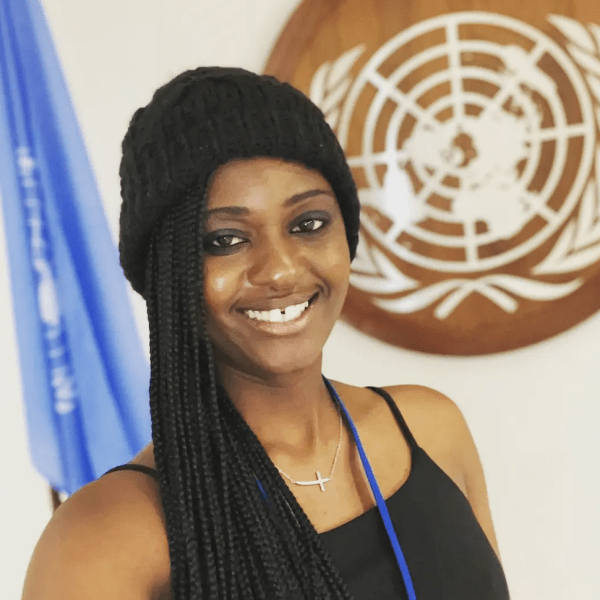 Wendy Adhiambo Omanga (she/her)

Founder, Moonlight Initiative
Wendy is a passionate young woman from the global south championing climate action, quality education and gender equality.
Kenya, Age 29  
---
How are you using education to build more sustainable and equitable communities? Tell us about your EE work and impact.
My passion for bamboo has provided my non-profit organization, Moonlight Initiative, the opportunity to help the development of a bamboo curriculum for the Kenya market through Technical and Vocational Education and Training (TVET). We are currently running a pilot project to restore riparian lands through bamboo planting in Kenya.
I have trained local forestry stakeholders in setting up bamboo nurseries, bamboo propagation  techniques, sustainable management of bamboo forests and bamboo shoots preparation technology  to empower local bamboo farmers in setting up bamboo cottage industries for green jobs in Kenya.
I am looking forward to the launch of the bamboo curriculum by the Kenyan government, for it will have a tremendous impact on the provision of technical skills needed by youth who are championing for green jobs across the country.
Tell us about your journey to where you are today. What inspired you? What has your path been like?
My journey in bamboo advocacy started in 2018 while studying at The University of Nairobi. At this time, my village back in Kisumu County was undergoing mass flooding which destroyed property and killed community residents due to negative effects of climate change. This inspired me to research how to mitigate negative effects of climate change and I discovered that planting bamboo along rivers mitigates erosion and siltation while also supporting livelihoods through the sale of bamboo goods. In 2022, my organisation was offered a two-year renewable MOU with the State Department of Housing and Urban Planning to introduce bamboo as a new strategy for creating affordable housing in Kenya. 
The journey has had its ups and down, but forming partnerships with forestry stakeholders such as the Kenya Forest Research Institute (KEFRI), the International Bamboo and Rattan Organization (INBAR), Young African Leaders Initiative (YALI), and Emerging Leaders Foundation Africa (ELF), has helped my organisation secure the necessary equipments, training, and exposure to international spaces of SDG advocacy.
A Little More About Me

What advice would you give to the next generation of leaders?

Answer: My advice to the next generation of leaders is that great things take time. For it is only when we form partnerships that we will go far together. The journey is a marathon, not a sprint.

What book/film or art piece has the greatest impact on you?

Being given an opportunity to create The National Bamboo Documentary 2021 by INBAR has had a tremendous impact on me and my organisation. This documentary demystifies myths around bamboo and its impact on the environment. The success stories we covered have encouraged me to keep pushing for what I am passionate about.

What are your hobbies?

My hobby is in fashion modeling in conjunction with touring and traveling the world.

If you could have one superpower,  what would it be?

If I could have one superpower, it would be the ability to teleport.