Image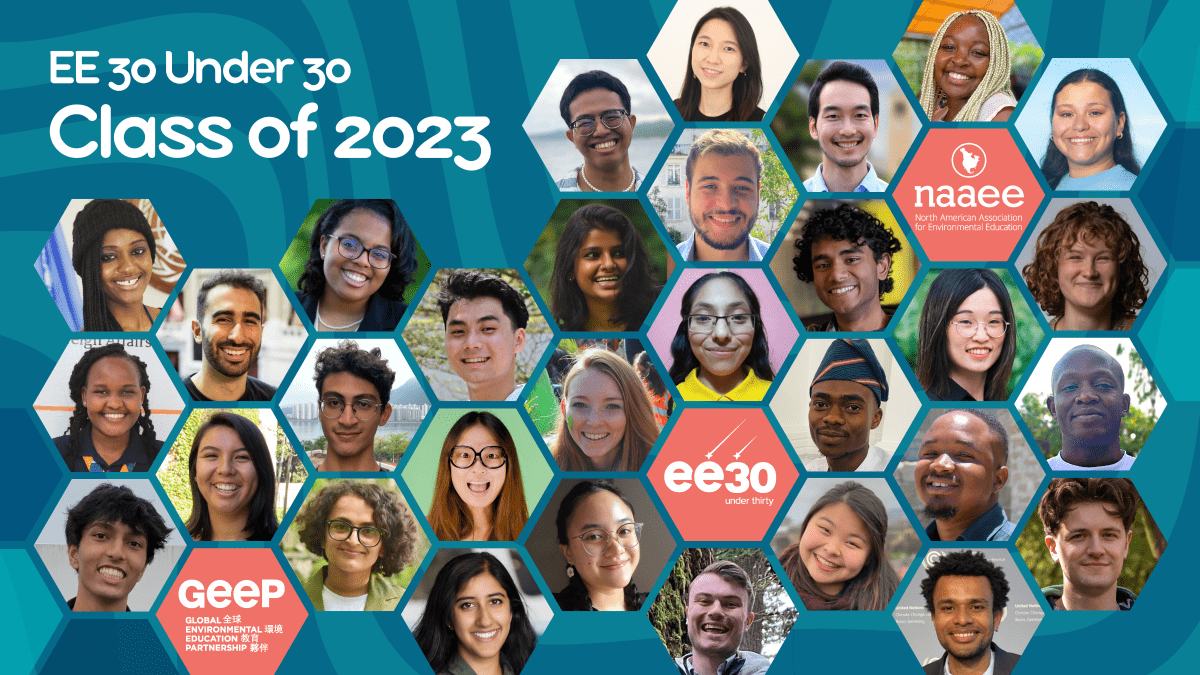 FOR IMMEDIATE RELEASE
The North American Association for Environmental Education announces its new class of 31 passionate leaders, ranging in age from 17 to 30 and representing 20 countries.
[Washington, D.C., August 3, 2023] The North American Association for Environmental Education (NAAEE) announces its eighth class of innovative leaders under age 30 who are using environmental education (EE) to build more just and sustainable communities around the world. This year's applicants were so impressive that we couldn't stop at 30. 
The 31 awardees in this year's EE 30 Under 30 Class of 2023 range in age from 17 to 30, hail from 20 countries, and are working with a wide range of audiences to tackle complex environmental and social issues in their communities. From teaching the community about coral reef reproduction in Honduras to generating climate action through hackathons in the United States to piloting riparian land restoration using bamboo in Kenya, their collective work is reaching more than 400,000 people each year, many of whom are on the frontlines of climate crises.
As EE 30 Under 30, these exceptional young leaders in EE will not only create change in their communities but also inspire and mentor others with their commitment to meaningful change. The Class of 2023 will join the global EE 30 Under 30 community of passionate and forward-thinking leaders and will receive ongoing support through networking, peer mentoring, global recognition, grant opportunities, and professional development. 
Since 2016, NAAEE's EE 30 Under 30 program has recognized 241 individuals from 47 countries who are making a difference through environmental education. This program is made possible by NAAEE, the Global Environmental Education Partnership (GEEP), and the U.S. Forest Service.
The award has had a tremendous impact on these young leaders. "Being recognized as an EE 30 Under 30 has transformed my professional journey, helping me grow as a leader, expand my network, shape my work, and inspire others. I am grateful for this community of EE leaders who share my passion, and the opportunities and resources that come with the award. To the incredible Class of 2023, keep shining. I have no doubt that the award will further elevate your leadership in environmental education," says Joy Munthali, EE 30 Under 30 2021.
Executive Director of NAAEE Judy Braus says, "We are honored to recognize and celebrate young people working at the forefront of environmental and social change. These 31 innovators and influencers are using environmental education and their ingenuity to build healthier and more just communities around the world. Join us in congratulating NAAEE's EE 30 Under 30 Class of 2023!"
Learn more about this year's winners, listed below, by reading their biographies on our website: naaee.org/programs/ee-30-under-30 
Anghy Sayury Aquino Martínez, 24, Peru, Brigitta Maria Andrea Gunawan, 19, Indonesia, Cameron E. Oglesby, 24, United States, Carlos Shanka Boissy Diaz, 22, Spain, Carolina Elizabeth Rojas Barahona, 25, Honduras, Emadago Oghenekevwe William, 24, Nigeria, Ernielly Leo, 29, Canada, Idah Murithi, 25, Kenya, Jack Hilgert, 25, United States, Jenna Cobb, 29, United States, Jude Russel Ulatan Cuntapay, 27, Philippines, Kong Man Jing, 29, Singapore, Maanit Goel, 17, United States, Max Han Kai Ding, 22, Malaysia, Meng-Hui Lin, 27, Taiwan, Michael Bäcklund, 20, United Kingdom, Nikkitha Terasa, 21, India, Owen Dan Luo, 24, Canada, Pamela Kiambi, 27, Kenya, Phoebe L. Hanson, 21, United Kingdom, Rifumo Mathebula, 26, South Africa, Ruairi Brogan, 26, United Kingdom, Sanjana Paul, 26, United States, Serag Heiba, 21, Egypt, Sian Crowley, 25, New Zealand, Sunita Bhandari, 28, Nepal, Tomas Teicher, 24, Argentina, Tracy Wong, 29, Hong Kong, Victor Ayegba Matthew, 29, Nigeria, Vihaan Mathur, 18, United States, Wendy Omanga, 29, Kenya
###
About NAAEE
For more than five decades, the North American Association for Environmental Education (NAAEE) has served as the professional association, champion, and backbone organization for the field of environmental education (EE), working with EE professionals across United States, Canada, and Mexico, as well as globally, to advance environmental literacy and civic engagement to create a more equitable and sustainable future. For more information on NAAEE, visit https://naaee.org.