Image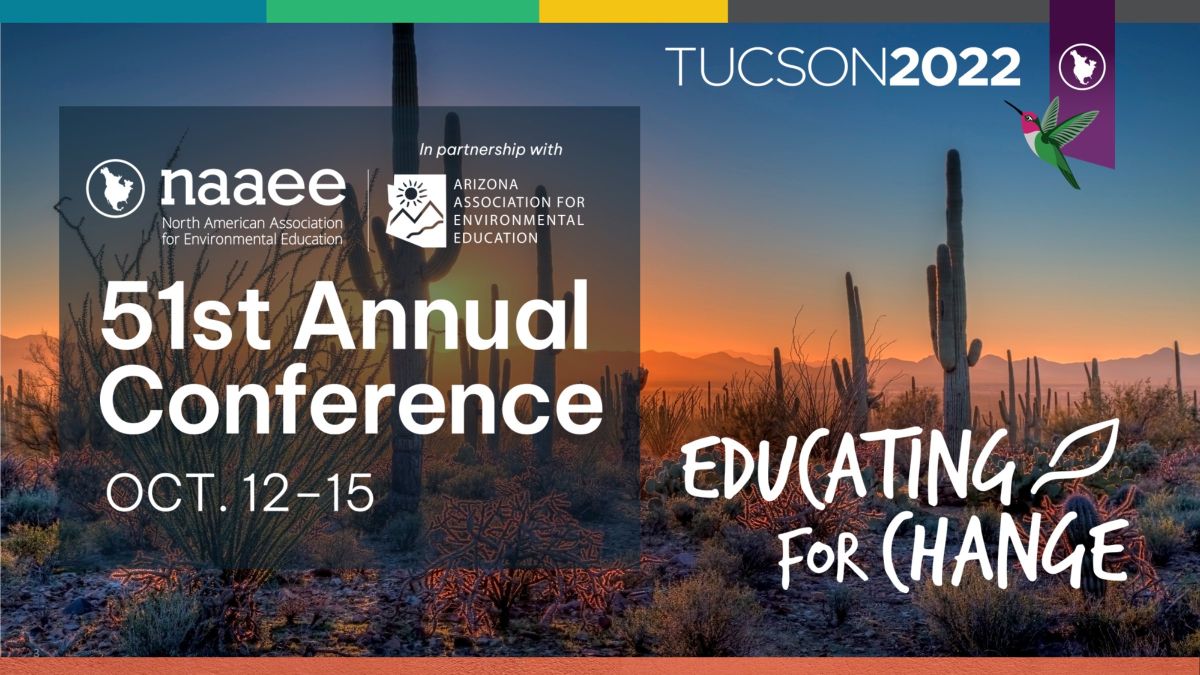 Affiliate
Arizona Association for Environmental Education
Media Contact: Stacie Pierpoint
Phone: 202-277-6582
Email: stacie@naaee.org
FOR IMMEDIATE RELEASE
______________________________________________________________
Subject: North American Association for Environmental Education Hosts More Than 800 Environmental Educators for 51st Annual Conference in Tucson, Arizona
Tucson, AZ, September 30, 2022 - The North American Association for Environmental Education (NAAEE) will host its 51st Annual Conference from October 12–15, 2022 at the Westin La Paloma Resort in Tucson, Arizona. Virtual options are available as well. With more than 800 formal and nonformal environmental educators from more than thirty countries, this conference is one of the largest gatherings of environmental educators in the world.
This year's conference theme is "Educating for Change." We will focus on the powerful role education can play in creating healthier communities and tackling today's complex environmental and social issues. We'll dig into vital topics in our field such as climate change education and climate justice, the benefits of connecting to nature, building a green workforce, protecting biodiversity, and centering equity in our work. We'll explore creative new approaches that have emerged from the pandemic and delve into ways in which current research can increase our effectiveness as we work to transform communities so they are more sustainable and just.
We invite press to join us for Opening Night:
Wednesday, October 12, 5:00–8:30 PM MT: After an opening reception for attendees, the conference will kick off with Las Azaleas, a Latina-led musical group. We'll then introduce Tucson Mayor Regina Romero to deliver opening remarks and read a proclamation declaring the week EE Week in Tucson. EPA Senior Advisor Kim Noble will introduce a welcoming video of EPA Administrator Michael Regan, followed by remarks from Executive Director, Judy Braus. Satheeshkumar Kumarasingam, Pratt & Whitney's chief transformation and strategy officer, will join Judy to announce the winners of the inaugural Pratt & Whitney E-STEM Awards for nonprofits working to support environmental education youth programs around the world. We'll close out the opening session with remarks from Julie Packard, executive director of the Monterey Bay Aquarium. Julie is winning a Lifetime Achievement Award for her more than four decades of work to advance environmental education and conservation. During the opening reception, we will also welcome organizations from Tucson to highlight successful programs and inspiring ideas and host an Authors' Corner highlighting the talented writers who will be attending the conference.
October 13–16: The heart of the conference features more than 400 sessions focused on all aspects of environmental education for professionals at all levels—from young professionals to seasoned experts. The conference will also host a number of affinity groups for people of color, LGBTQ+ attendees, and eePRO discussion groups. In addition, more than 15% of all sessions focus on equity and inclusion to ensure that the field is increasingly relevant in a changing world. This is also a hybrid conference, so we will have people joining from around the world and zooming in to listen to the keynotes and take part in separate virtual events.
An attendee from the NAAEE conference in Lexington, Kentucky said, "This conference was life-changing. I learned so much and connected with amazing, passionate, positive, encouraging, and caring people." Learning, passion, and encouragement will exist in abundance again this year. Attendees will connect and share ideas as they attend an array of sessions, including our plenary sessions with keynote speakers Dr. Robin Wall Kimmerer (joining virtually), U.S. EPA Administrator Regan, leaders from NAAEE's EE 30 Under 30 and CEE-Change Fellows cohorts, and many more.
"It's such an inspiring conference with educators from all parts of the world coming together to share, learn, and advance our collective work," says Judy Braus, executive director of NAAEE. "There's never been more urgency for the work we do as a field to further environmental literacy and civic engagement and to highlight the importance of creating a more equitable and inclusive movement that grapples with the complex issues of our times." The conference is hosted in partnership with the Arizona Association for Environmental Education.
NAAEE is grateful for all of our conference sponsors. See the full list here.
About NAAEE
For more than five decades, the North American Association for Environmental Education (NAAEE) has served as the professional association, champion, and backbone organization for the field of environmental education (EE), working with EE professionals across United States, Canada, and Mexico, as well as globally, to advance environmental literacy and civic engagement to create a more equitable and sustainable future. For more information on NAAEE, visit https://naaee.org.
Media Instructions: We can facilitate in-person, video, and telephone interviews with speakers before and directly after the Opening Reception and Ceremony. We encourage press to attend the opening ceremony for free to interview professionals in the field. Please RSVP by emailing Stacie Pierpoint at stacie@naaee.org.
Additional Event Details for Opening Night:
What: The North American Association for Environmental Education (NAAEE) in partnership with the Arizona Association for Environmental Education will open its 51st Annual Conference to address educating for change.
Who: Judy Braus, executive director of NAAEE; Tucson Mayor Regina Romero; Pratt & Whitney's Chief Transformation and Strategy Officer Satheeshkumar Kumarasingam; U.S. EPA Administrator Regan; Julie Packard, executive director of the acclaimed Monterey Bay Aquarium; Las Azaleas mariachi band
Where: Westin La Paloma Resort / 3800 E Sunrise Dr, Tucson, AZ 85718 / Opening Reception: Arizona Foyer / Opening Ceremony: Grand
When: The Opening Reception and Ceremony for the Conference will take place Wednesday, October 12, 2022 from 5:00 to 8:30 PM. Below is the schedule of events:
5:00 – 6:30 PM: Start of the opening reception with Exhibit Fair, Share Fair, Authors' Corner, hors d'oeuvres, and cash bar
6:30 NAAEE's Board Member Diego Ramón welcomes everyone to the 51st Annual Conference—our first in-person in three years
6:35 Music from Las Azaleas, a women-led Mariachi band
6:41 Mayor Regina Romero reads the Arizona Environmental Education Week proclamation and shares the land acknowledgment
6:55 U.S. EPA's Kim Noble will speak and introduce Administrator Regan's video
7:07–7:45 Judy Braus from NAAEE gives remarks, and introduces Pratt & Whitney's Chief Transformation and Strategy Officer Satheeshkumar Kumarasingam; Kumar announces the winners of the Pratt & Whitney E-STEM Awards
7:47 Judy Braus announces the winner of the NAAEE Lifetime Achievement Award for Leadership in Conservation and Environmental Education, Julie Packard, executive director of the acclaimed Monterey Bay Aquarium
8:15 Closing remarks