The CEE-Change Fellowship Program provides an opportunity for formal and nonformal environmental and civic engagement educators of all ages from across North America to learn from each other and collaborate to scale up our impact as we work to create a more equitable and sustainable future. Help us spread the word by sharing the following information with your colleagues, friends, students, and followers:
There are no age restrictions to apply
Fellows design and implement a joint CE and EE Community Action Project with access to mini-grants
Fellows attend a virtual Leadership Institute in July 2021
Fellows receive a scholarship funds to attend the 50th Annual NAAEE Conference in Pittsburgh, PA or virtual (TBD) and an in-person follow-up in summer 2022
Fellows gain access to mentoring and networking opportunities within the Fellows cohort and NAAEE network
Applications are currently being accepted and reviewed on a rolling basis. Apply today!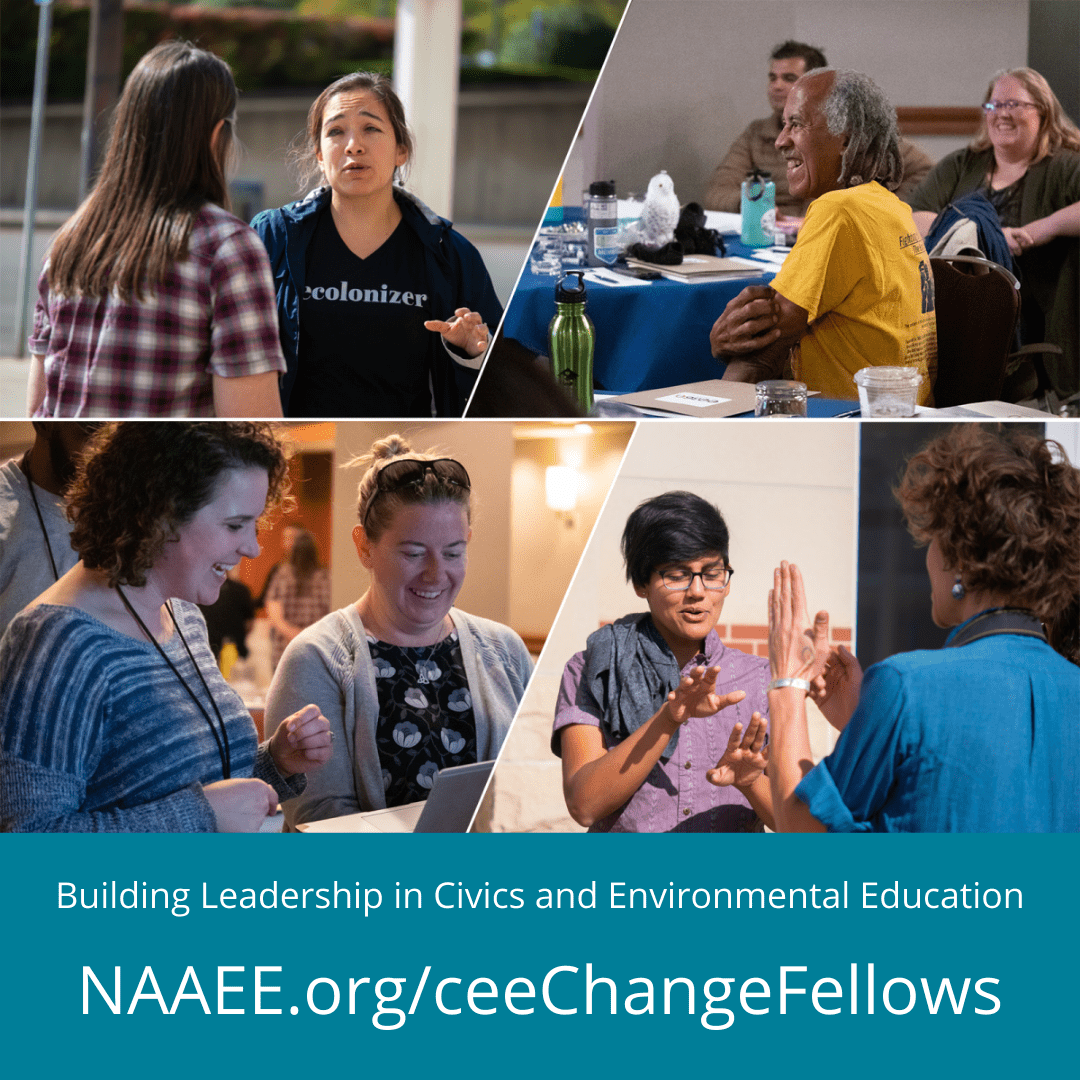 Branding
The program is called the "Civics and Environmental Education (CEE)-Change Fellowship" or the "CEE-Change Fellowship"
Direct people to naaee.org/programs/cee-change-fellowship to learn more and apply
If you are posting to social media, use #ee360Fellow and tag @TheNAAEE
We encourage you to use the CEE-Change Fellows social cards, which you can download here
Newsletter Text
NAAEE, the US EPA, and the Cedar Tree Foundation believe in supporting innovative initiatives for using civic engagement and environmental education to address environmental issues and strengthen community resilience. Become a Civics and Environmental Education (CEE)-Change Fellow to strengthen your community through a community-based environmental education action project, gain access to opportunities for leadership training, technical assistance, and professional development, and join a growing network of community leaders. Applications for North American applicants are currently open and are being accepted and reviewed on a rolling basis. Professionals of all ages are encouraged to apply. Visit the North American Association for Environmental Education's website to apply at naaee.org/programs/cee-change-fellowship.
Social Media for Organizations
Apply to join @TheNAAEE's CEE-Change Fellowship program to learn with a growing network of leaders and complete an environmental education community action project. Visit naaee.org/programs/cee-change-fellowship. #ee360Fellow
Looking for the best way to influence your community but don't know how to get started? Apply to become an CEE-Change Fellow with @TheNAAEE to gain the professional development, funding, and access to resources you need at naaee.org/programs/cee-change-fellowship. #ee360Fellow
We want to help you address environmental and social concerns in your community. Apply now to become one of @TheNAAEE's CEE-Change Fellows, and consider choosing us as a partner organization! Learn more at naaee.org/programs/cee-change-fellowship. #ee360Fellow
Social Media for Individuals
I'm happy to announce that I'm applying for @TheNAAEE's CEE-Change Fellowship! If you want to make a change in your community using environmental and civics education, you should learn more at naaee.org/programs/cee-change-fellowship. #ee360Fellow
I want to see more people in my community using environmental and civics education to create change, which is why I hope you will consider applying to @TheNAAEE's ee360 CEE-Change Fellowship at naaee.org/programs/cee-change-fellowship. #ee360Fellow